Our Best Pulleys – Guaranteed for LIFE
Commercial Quality, Forged Brass with Sealed Ball Bearings, and a Sex Bolt.
CNC machined and available with either Round or Square Ends.
Pulleys accept chain or cord.
See all the available hardware finishes, Call for availability: (800) 370-8808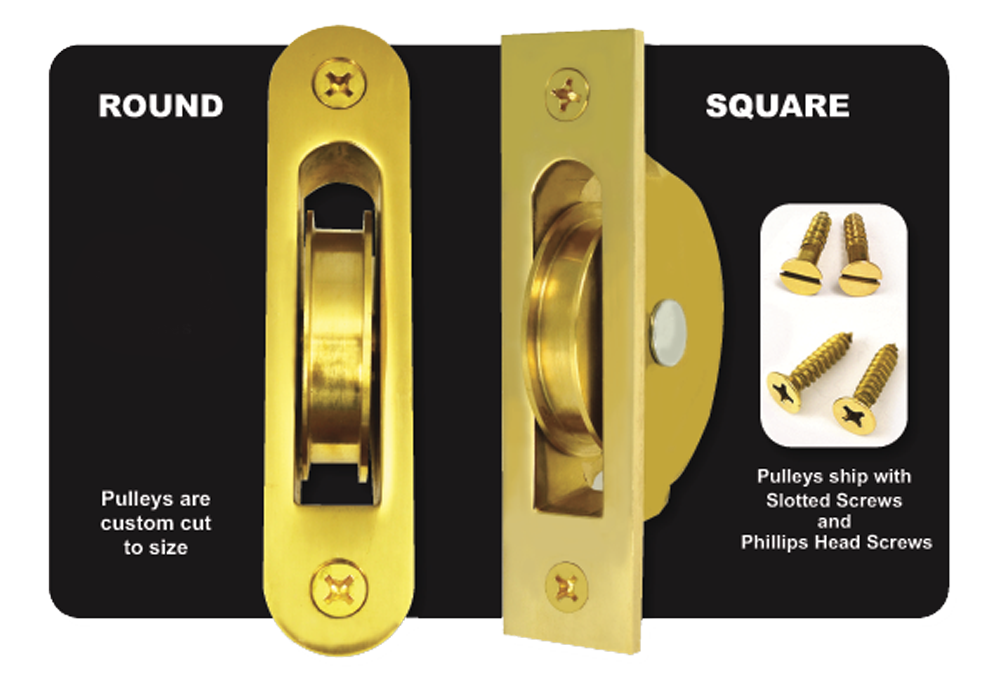 Model 5114
Solid Brass Pulley
Length of Faceplate: 3 3/4″ to 5″
Width of Faceplate: 1″ to 1 1/8″
Depth: 1 1/2″
Wheel Diameter: 1 11/16″
Model 6114
Solid Brass Pulley
Length of Faceplate: 4 1/2″ to 6″
Width of Faceplate: 1″ to 1 5/16″
Depth: 1 3/4″
Wheel Diameter: 1 7/8″
Model 7114
Solid Brass Pulley
Length of Faceplate: 5 1/2″ to 6 7/8″
Width of Faceplate: 1 1/8″ to 1 3/8″
Depth: 2 9/16″
Wheel Diameter: 3 3/16″
*Depth = Distance from the front of the faceplate to dropline of chain or cord
ARC Window Pulleys are the best in the business!
Our premium sash window pulleys are:
The highest quality forged brass pulleys
While our competitors use stamping or sand-casting to create their pulleys, we take the time to forge our pulleys. Because of our forging process, our high-performance pulleys really stand the test of time.
Independently tested to a breaking strength of 7,000 lbs
We had our pulleys tested by an independent engineering house and the results showed that our pulleys withstand 10 times the stress of our competitors.
Custom machined to any size on our in-house CNC machine
We will custom machine our pulleys at no additional cost to you. With CNC machining, we can engineer each piece to optimal tolerances that will give your pulleys the best performance.
Guaranteed for life!
Window pulleys have to work, and keep working long into the future. We are so confident in our premium window pulleys, we back them with a lifetime guarantee.